What We Do

Getting The Job Done Right: Capabilities
Your requirements are our first priority. We can handle virtually any project, and work with a variety of substrates. We're highly experienced in coil coating building products, personal care items, sign & tag stock, lighting fixtures and other applications. We also offer custom color matching. Learn more about EDCOAT.
We work with all major paint companies and paint systems including: Polyester, Siliconized Modified Polyester (SMP), Kynar (PVDF), PVC and Epoxy, among others.
We provide complete slitting and warehousing services and work with a variety of metals, widths and thicknesses. Below is a list of our capabilities. Please contact us if you have questions or specifics you don't see listed here.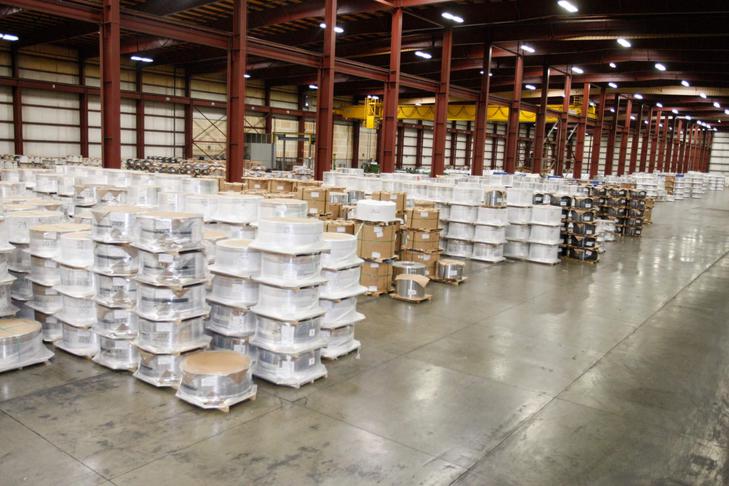 Coil Coating
Coil coating (also known as roll coating) is done around the clock, five days a week. Every coil coating order begins with you. We make sure there's a complete understanding of all your needs, deadlines and any other specifics required for a successful order.
Our Ross Waldron tandem line is capable of priming and painting both sides of metals in a single pass, after cleaning and pretreating various substrates. The six-stage pretreat system is over 200 feet long. This long length provides enhanced cleaning for superior paint adhesion. Our 175-foot curing ovens are capable of reaching over 800 degrees, allowing us to cure virtually any coating.
To ensure that we exceed our customers' expectations, we have a quality control lab equipped with the latest state-of-the-art equipment. Every coil coated is thoroughly tested using ASTM testing methods for paint adhesion, flexibility, film thickness, color match and other attributes required to maintain our high standards. Color standards and lab equipment is calibrated and audited by outside vendors in addition to internal controls throughout the year.
Upon completion of your order, we provide clean and secure warehousing until the material is shipped out, at which time it is invoiced. All documentation related to your order is maintained for an extended period of time. Want to know more? Contact us or come by for a tour.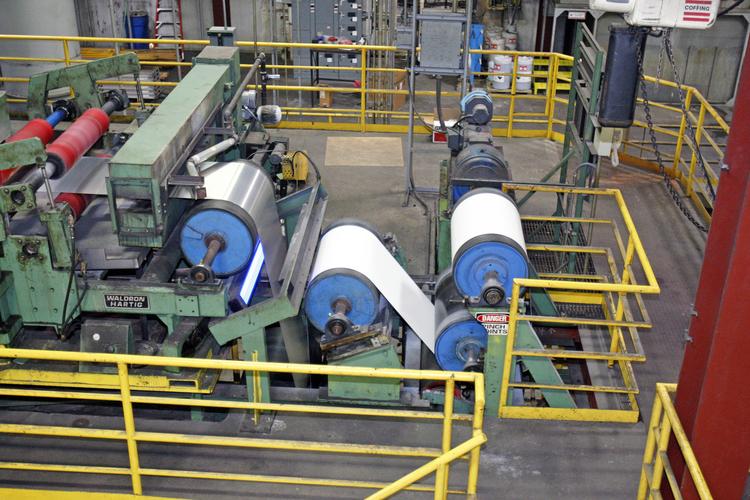 Color Matching
Utilizing our computerized color monitor we can match many existing colors and paint systems. If your are looking for something special, we can contact our many paint vendors and develop the exact color and paint system required for your application. We use a variety of paint systems and vendors to meet our customers needs.
Personal Service
We will do whatever and whenever to service our customers and support our employees. We approach business with a sense of urgency and a "can-do" attitude. We strive to be better today than yesterday. Our focus is Service, Quality and Flexibility. We take time to understand your needs and business. Our team will treat your material like it is our own and will treat you like family. Edcoat offers old fashion, long-term relationships to our customers, suppliers and employees.
Pre/Post Slitting
Our job doesn't stop with coil coating. We are capable of slitting cold rolled steel, galvanized or stainless steel, galvalume, aluminum and more. Our 60" Loopco slitter is capable of slitting 72" O.D. coils See our capabilities
To find our more about coil slitting with EDCOAT. Contact us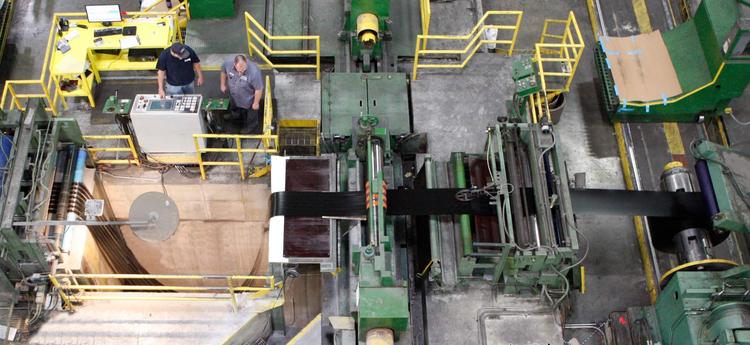 Ware­housing
We have a tremendous amount of warehouse space and with our inventory tracking system, you can rest assured your product is safe, secure and stored in an ideal warehousing environment. Our support staff will send you regularly scheduled updates on your inventory. Shipping is available 24 hours a day, M-F. Contact us to find out more about warehousing with EDCOAT.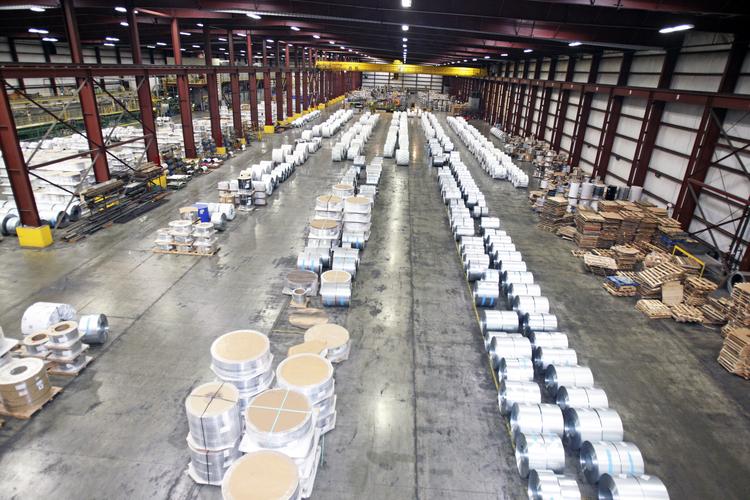 Capabilities
| Production Lines | Slitter | Paintline |
| --- | --- | --- |
| Equipment Description | Loop & Tension Slitter | Tandem Coating Line with Chemical Coater |
| Base Material (substrate) Capabilities | Cold Rolled, Galvanized, Stainless Steel, Galvalume®, Aluminum | Cold Rolled, Galvanized, Stainless Steel, Galvalume®, Aluminum |
| Maximum coil weight, unicoiler / recoiler | 50,000 lbs. / 50,000 lbs. | 20,000 lbs. / 20,000 lbs. |
| Unicoiler width, min / max in inches | 20" / 62" | 13" / 30" |
| Recoiler width, min / max in inches | n/a / 60" | 13" / 30" |
| Unicoiler I.D. min / max in inches | 20" / 20" | 16" / 20" |
| Recoiler I.D. min / max in inches | 20" / 20" | 16" / 20" |
| Maximum coil O.D. in inches | 72" | 72" |
| Steel gauge: min / max in inches | .006" / 0.040" | .006" / .030" |
| Aluminum gauge: min / max in inches | .009" / .070" | .009" / .070" |
| Max. cross section Steel / Aluminum (sq. in) | n/a | .750" / 1.875" |
| Recoiler stagerwind capability | No | Yes |
| Minimum slit mult width | 2" | n/a |
| Maximum number of cuts | 14 | n/a |
| Slit width tolerance | +/- 0.005" per mult | n/a |
| Edge trim required | 0.250" per side | n/a |
Material Handling
Max. coil weight handled by crane
50,000 lbs.
Max. coil weight handled by forklift
30,000 lbs. eye horizontal 20,000 lbs. eye vertical
Max. coil weight that can be handled in a closed top truck or trailer
12,000 lbs.
Coil tipping capabilities
30" wide by 72" O.D. 20,000 lbs.